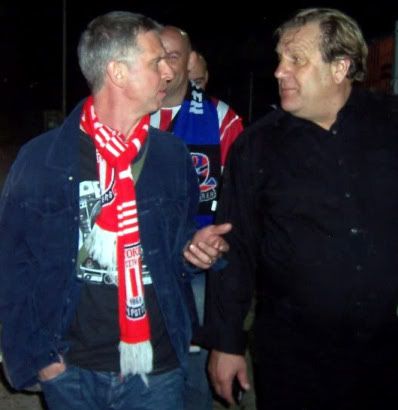 Stephen Foster aka Winger (left) discusses tactics with former Stoke City Manager Johan Boskamp, Denderleeuw, April 2008
On the 30th June I was working late, waiting to go to a Green Party meeting in Leeds city centre so I thought I'd pop on the Stoke City Fanzine Oatcake Message Board to pass a few minutes before I headed off. I expected wild transfer rumours, amusing tales, and the usual banter. What I did not expect to find was a thread about the death of Stoke author Stephen Foster. Having been reported missing, his body was found near his home in Norwich on 23rd June. The cause is believed to be drowning. At the time I found it hard to put into words what a shock this was and how incredibly sad this news is. I felt empty. My thoughts and condolences go out to all of Stephen's family and friends as their pain will be far greater than mine. I did manage a few lines on the message board, but they were not sufficient.
So I've been wanting to produce a more worthy tribute to Stephen ever since learning of Stephen's passing, but have struggled to get past a terrible sense of sadness, a feeling can't really put words to, but just left me incapable of getting very far without giving up. But following the memorial service on Saturday 16th July at Mow Cop which Stephen would have undoubtedly called "sensational", and was an uplifting, moving, and humorous celebration of his life, I felt it was time now to record my thoughts.
My first encounter with Stephen was not in person, but his book "She Stood There Laughing". Reading it I felt several emotions. First off he spoke for me almost perfectly, describing that season in a way that I'd agree with 99% of his views. Secondly he repeatedly made me laugh out loud, startling fellow bus passengers in the process. Thirdly he made me envious. I harboured a dream of becoming a writer myself, and working on the old adage of "write about what you know" I'd considered doing something about my home town or Stoke City. However here was an author who had produced the sentiment of what I'd wanted to say, but had written it in such an eloquent and witty style that I could never have managed. The talented swine! I realised I'd best stick to the day job!
Having read the book and learnt that "Winger" on the Oatcake Message Board and Stephen were one of the same, I enjoyed following and contributing to threads that Winger and fellow "Pulis Hating Wankstains" (the name given to fans who dare criticise the manager Tony Pulis) frequented. Like his book his posts were articulate, sharp, reasoned, well observed, and very funny. I could usually rely him to back me up when I expressed a non-conformist opinion.
Somehow, and the exact details elude me for once, I got roped in to a weekend away in Brussels, and a trip to watch Johan Boskamp's FCV Dender. I probably invited myself along more than likely. This was the first time I was to meet Stephen in person. By this point I'd read more of his works, including the awesome "It cracks like breaking skin", and I half worried that he might demonstrate the sort of self-importance bordering on arrogance, a trait one often finds with people that have obtained some fame or notoriety. I feared sharp put downs or sarcasm which also often go with the territory of the artiste. Yet I should not have worried, because Stephen is from Stoke, and so possessed that down to earth nature forged with self-deprecating humour that so many people of the Potteries exude. Yes there was banter. Yes my lengthy detailed instructions on how to navigate the Brussels Metro system and find the hotel were read out loud for the group's amusement, along with my propensity to use lots of exclamation marks, but there was no malice in this performance. Just good hearty ribbing, the sort mates give out all the time, the sort that indicates genuine affection. I will treasure the memories of that weekend forever, there were more laughs than I can possibly recall.
That weekend led to greater contact: meetings at games, emails, text messages, blog post replies, all containing the trademark eloquence and wit. When I spent 6 months in 2009 living in the USA with my American girlfriend to "see how things go", I wasn't allowed to work as a visitor in the USA so had plenty of time on my hands. This led to the honour of proof reading his book "And She Laughed No more". Stephen was also kind enough to give his frank, detailed and valuable constructive criticism of two short stories of my own that I sent him. The first needed much improvement, but the second was much better, enthusiastically received and to get that sort of praise from a writer I respected meant a great deal to me. In the email exchange about the stories he asked who my literary heroes were. I couldn't tell him at the time that he was one of them, but I can at least tell you all now.
In "And She Laughed No More" Stephen very kindly included a comment of mine, one of my replies to his blog. He also kindly wrote alongside it that I was a person who lived his life to a code, to a set of principles, something that impressed him and he admired. Well the feeling is mutual. Stephen was someone I admired a huge amount, was a hero, and an inspiration to me. Maybe because he was someone I could relate to – fellow Stoke exile, working class background turned "middle class gayer" who appreciated the arts, the beauty of the English language, and a decent bottle of wine as much as a trip to the Britannia Stadium and a cheese oatcake, and someone who confessed that writing didn't come easy for him, constant rewrites and much turmoil before something approaching satisfaction with the result is achieved. I felt an affinity with Stephen because of all of these things. But more simply than that, because he was a decent, genuine, caring, generous, funny person who would go out of his way to help you. My regret is that I didn't get to spend more time in person with you Stephen to tell you all of that, and that I won't be able to share tales of the new addition to our family – a RSPCA rescue whippet-cross that I think you would have certainly approved of and enjoyed meeting.
It's so sad that you've gone Stephen, but there's so much to celebrate about your life. From Saturday's service it was obvious that you have touched so many people's lives in a positive way. You will be greatly missed.
Rest in peace lad.