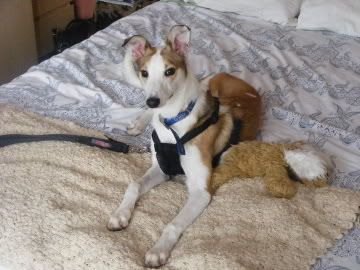 When at the end of June Tina started a job at a boarding facility for animals I didn't realise that as well as paying customers she'd be looking after dogs in the care of the RSPCA. It was probably inevitable then that she would eventually fall for a rescue dog. We had discussed getting a dog in the past and arrived at the conclusion that with cats and both of us potentially working, it would be unfair to introduce a dog into our family.
However a 7 months old male Whippet-Cross, named Thorn by the RSPCA, captured Tina's heart. This was a special dog she claimed, a gentle soul perfect for our family. He'd even been taken past cats to gauge his reaction, and passed the test. He was not interested, and a hiss from one angry feline saw him cower behind his handler's legs. She begged me to let us adopt him.
I was still unconvinced. Tina's job allows staff to take their animals to work with them for free day care which solved one of the problems, but I was worried about Hadley's and Molly's reaction to sharing their house with a dog. However seeing how much it meant to Tina I agree to meet Thorn one evening when I collected her from work. I was smitten. He put on a good show, if anything more pleased to see me than Tina. Clearly affectionate, he did have a calmness about him that I didn't expect. I agreed to return the following day for an official viewing appointment. We went on a walk together, and as a novice I was petrified, and horrified when given a bag to collect any potential poop. Thankfully it was not needed, and Thorn behaved very well, showing no signs of the issues that sadly often beset a rescue dog.
By this stage my stance was faltering. I was falling for this dog too. I agreed to a 24 hour trial, taking a day off to bring Thorn home to see how he would settle. He did well, and a week ago today we signed his adoption papers and Bevan (as he is now known) became a part of the family. It may have been Tina who wanted this dog, but he seems to prefer me. He follows me around and misses me when I leave the room. Already there is trust and unconditional love. I have enjoyed the time we spend together, walks are not a chore as I feared, but relaxing and pleasurable. I am no longer in fear of the poop scooping bag but proficient in its use! Everywhere Bevan goes he received compliments from dog walkers and passers-by alike. I think we do have a special dog, and in honour of his first week with us here are some photos.